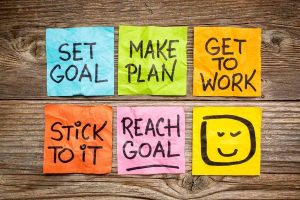 At the end of every year, and towards the beginning of a new year, a lot of persons set new goals for the incoming year, usually after an evaluation of how their time in the outgoing year had been spent. A popular motivational speaker, Brian Tracy, once said "Goals are the fuel in the furnace of achievement. Think on paper and write them down!". He further said that "People with clear, written goals, accomplish far more in a shorter period of time than people without them could ever imagine." On how to achieve set goals, he said "Clear, written goals have a wonderful effect on your thinking. They motivate you and galvanize you into action. They stimulate your creativity, release your energy, and help you to overcome procrastination as much as any other factor." Needless to say, goal setting and putting in the required work to achieve set goals is the open secret to achieving New Year resolutions and other life goals. It is very important to set clear goals and work hard towards achieving them.
Do you live in Lagos? Your 2022 Goals Should Include Stress Reduction or Eradication!
Stress is "a feeling of emotional or physical tension. It can come from any event or thought that makes you feel frustrated, angry, or nervous".
Lagos is the 2nd most stressful place to live on planet earth! This was the conclusion reached by studies conducted on the subject. It is indeed very stressful to live or work in Lagos. According to the studies, the reasons why Lagos is so
stressful to live in include "traffic congestion, inadequate housing, water supply crisis, as well as issues of security of life and property."  Other stated reasons include "sociopolitical stability, population density, air, light, and noise pollution levels, the amount of traffic congestion and weather conditions."
A CNN columnist who spent 8 hours in Lagos traffic from the Airport to Ajah, which was 2 hours longer than the flight from Istanbul to Lagos, where the columnist had arrived from, observed that in addition to the environmental pollution and noise generated by traffic, it also "takes a huge toll on workers' mental and physical health."
An average Lagosian commuting from their residence to their place of work or business and back spend between one and six hours in traffic daily. Traffic is a major cause of stress for Lagosians, with its attendant effect on their mental and physical health, quality of life and longevity.
How where you live and work contribute to your quality of life and longevity.
If where you live make you to spend lots of productive time commuting to and from your place of work and you spend most of this time in traffic which makes you to be highly stressed, tired and exhausted daily, according to a
study conducted by researchers at Harvard and Stanford, this could shorten your life by up to 33 years. The reduction happens in small daily increments, every day you are stressed.
Where should you live to reduce your commute time between your work place and your residence without inadvertently shortening your life span in cumulative and apparently insignificant increments, which definitely and surely compounds and begin to show up in intense fatigue and constant breakdown in health and frequent sickness? The answer is obvious. Close to your work place.
These Locations and Your Stress Level
If one lives in Ajah, Sangotedo, Bogije or Ibeju Lekki and works in Lekki Phase 1, Ikoyi, Victoria Island, Lagos Island, Ikeja, or Lagos Mainland, the 33 years reduction in their lifespan accumulates faster as they would have to be
spending a minimum of between four and six hours daily in traffic to commute between their house and their place of work. The resultant stress would make life a living hell. This is also true if a person lives in Ikorodu, Badagry, Sango, Arepo, Ibafo or Redeem Camp and they work in Lekki Phase 1, Ikoyi, Lagos Island, Victoria Island. This also applies to anyone who has to transverse a very long distance prone to heavy traffic between where they live and where they work.
The best place to live when you work at a place is a place at or close to your working place or where you do business. One of the many reasons people stay far from where they work or do business is to save money. Another common reason is to "live in my own house" especially when where they can afford to build a house is so far from where their business or place of work is, such that the commute time from their house to their business or working place causes a lot of stress.  The feeling of "I live in my own house" or the monetary savings you get by living at a very far place from your business or work, which then takes a serious toll on your health and makes you to be so stressed up is definitely not worth it in the long run, except of course, you do not have an option. But do you really believe you don't have an option? If you do, then of course you don't have an option. But if you don't, then you do have an option. There is always an option! A better option!
Stress Reducing Features of Olagbaju's Court
If you work in Lekki Phase 1, Ikoyi, Vctoria Island, Lagos Island, Ikeja, or anywhere on the Mainland, you can significantly reduce the stress that comes with commuting through long arduous traffic ravaged places between your current home and your business or work place by subscribing to a unit of Olagbaju's Court. Olagbaju's Court is an ideal and affordable luxurious and relaxing home.
Olagbaju's Court is a brand new premium, urbane and luxuriously finished blocks of 3 bedroom flats with penthouses.
It is located within the serene, peaceful, gated and well secured AFRA Estate on Adeniyi Jones Avenue, Ikeja, Lagos.
Adeniyi Jones Avenue is a renowned and classy choice area on Lagos Mainland. It is a perfect blend of both commercial and residential developments. The residential part is serene, green, peaceful and home to gated and secured mini estates. It is centrally located and is less than 20 minutes' drive to the international airport. It is less than 15 minutes' drive to Ikeja City Mall. Other nearby places of interest are fitness centers, cinemas, shopping malls, family parks, intercontinental and local restaurants and eateries, renowned nursery, primary and secondary schools.
Each luxurious and VERY SPACIOUS unit is fully finished with the following well thought out details:
Palatial living room and a wide terrace for a view of the surrounding peaceful neighborhood
Guest Toilet with top quality sanitary wares.
Generous bedrooms with premium quality multipurpose closets and wardrobes
Extensive Master's bedroom and a private terrace with a premium view
All rooms ensuite with cubicle shower, water heater, and top quality sanitary wares
Extra Large Fitted Kitchen with spacious and well delineated cabinets, heat extractor, gas cooker, microwave oven, and water heater.
Self-Contained Maids Quarter/BQ for each flat!
Intercom telecommunication from the flats to the Maid's Quarter
Elevator to all flats
Alternative stairwell
2 Car parking spaces per flat
Fitted Gymnasium
Facility Management Office
Security Office
Intercom telecommunication from all flats to the security post
Fully serviced (24/7 Power; Water; Security; Waste Disposal)
CCTV coverage
Automated Entrance and Exit Gate!
Location: 3, Akin Lakanu Close, AFRA Estate, Adeniyi Jones Avenue, Ikeja, Lagos.
How to get a Unit in Olagbaju's Court with a Limited Budget
Olagbaju's Court is currently on off-plan sale for N64.999m. You only need N15M TO SUBSCRIBE TO A UNIT. You can spread the balance and pay in CONVENIENT INSTALMENTS over a period of up to 12 months according to construction milestones. The balance is INTEREST FREE for the entirety of the 12 months.
YOU CAN DO THIS! Don't doubt it!
Set Olagbaju's Court as your 2022 New Year resolution! By December 2022, you can move into your fully finished deluxe flat.
At completion, each unit in Olagbaju's Court will sell for a minimum of N74.999m. It may be higher, especially given the fast rising cost of construction.
When you lock a unit down right now, you save a minimum of N10m!
What you need to do right now!
You need to do the following:
Get an offer and contract from us.
Pay the initial N15m deposit and get instant off-plan allocation.
Pay the balance in convenient interest free instalments according to project milestones.
Pay the last instalment and move into your luxurious flat.
Set and achieve Olagbaju's Court as the goal for 2022 and let's set the ball rolling!
#CashCow #HouseHunting #NewHome #Condo #OlagbajusCourt #RealEstate #Investment #Ikeja #AdeniyiJones #Lagos #Nigeria #Nigerian
Please call or chat to view the site and get a unit.
+234-816-011-0533; +234-908-213-9536     info@digitalnanos.com